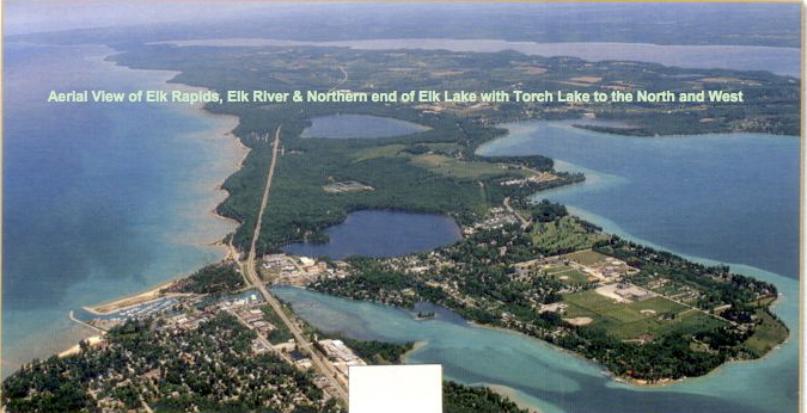 The Condo Rental Unit resides within the fabulous watershed known as the The Elk River Chain of Lakes System. This Chain of Lakes functions as the core of a 500 square-mile watershed that drains into the Grand Traverse Bay (Lake Michigan) through the Elk River at Elk Rapids, with the water level controlled by a dam and spillway system. The Chain includes 14 lakes, interconnecting rivers, and some 247 tributaries predominately in Antrim County, the waters of which flow 55 miles and drop 40 feet in elevation on their way to the Bay, providing 60% of the Bay's water. For nearly 150 years, the Chain has served as the heart of economic and cultural activity in the region. All 14 lakes have qualities that allure and captivate residents and visitors fortunate enough to experience the enchanting natural beauty of these aquatic treasures first hand. Thus, the area's continuing prosperity relies on it's continuing environmental health to allow these experiences to continue for future visitors. The names of the lakes, in an upstream direction from Elk Rapids, are: Elk, Skegemog, Torch, Clam, Bellaire, Intermediate, Hanley, Benway, Wilson, Ellsworth, St. Clair, Six Mile, Scotts, & Beals. See Photo below, as well as the interactive Google Map on the "Where is the Condo?" page on this site. (Link to page ===> where-is-the-condo.php)
In addition, for those "Hunter/Jumper horse enthusiasts and participants", the Spring and Summer seasons of 2022 will be offering a greatly expanded series of competitive show jumping events being billed as the Traverse City Horse Shows (TCHS).
In total, t
he series will consist of 15 separate competitions spanning 15 weeks, culminating with the Tournament of Champions - American Gold Cup held on Sept. 14 - 18. The following website provides the full line-up of events, and much more to assist anyone desiring to either enter any of the events, or simply attend.
The TCHS continue to be held at Flintfields Horse Park, located at 6535 Bates Road in Williamsburg. See link to find Flintfields on the map =====> https://goo.gl/maps/exRdA4FkigNrYiN47

The photos below are from prior years events, which were then known simply as the Great Lakes Equestrian Festival. The bottom 2 photos are taken from a local Traverse City area newsletter published in June of 2022, which contains a telling quote about the challenge each human & horse competitive combination faces during each of the opportunities inside the fencing. This northern Michigan event has now grown in magnitude across many dimensions of time, talent, classes of entrants, and prize monies offered. Photos and Videos from the various individual competitions held during prior years, as well as activities available to visitors to this beautiful summertime destination known as Northern Michigan, are available and can be found following the link above for the 2022 Traverse City Horse Shows.